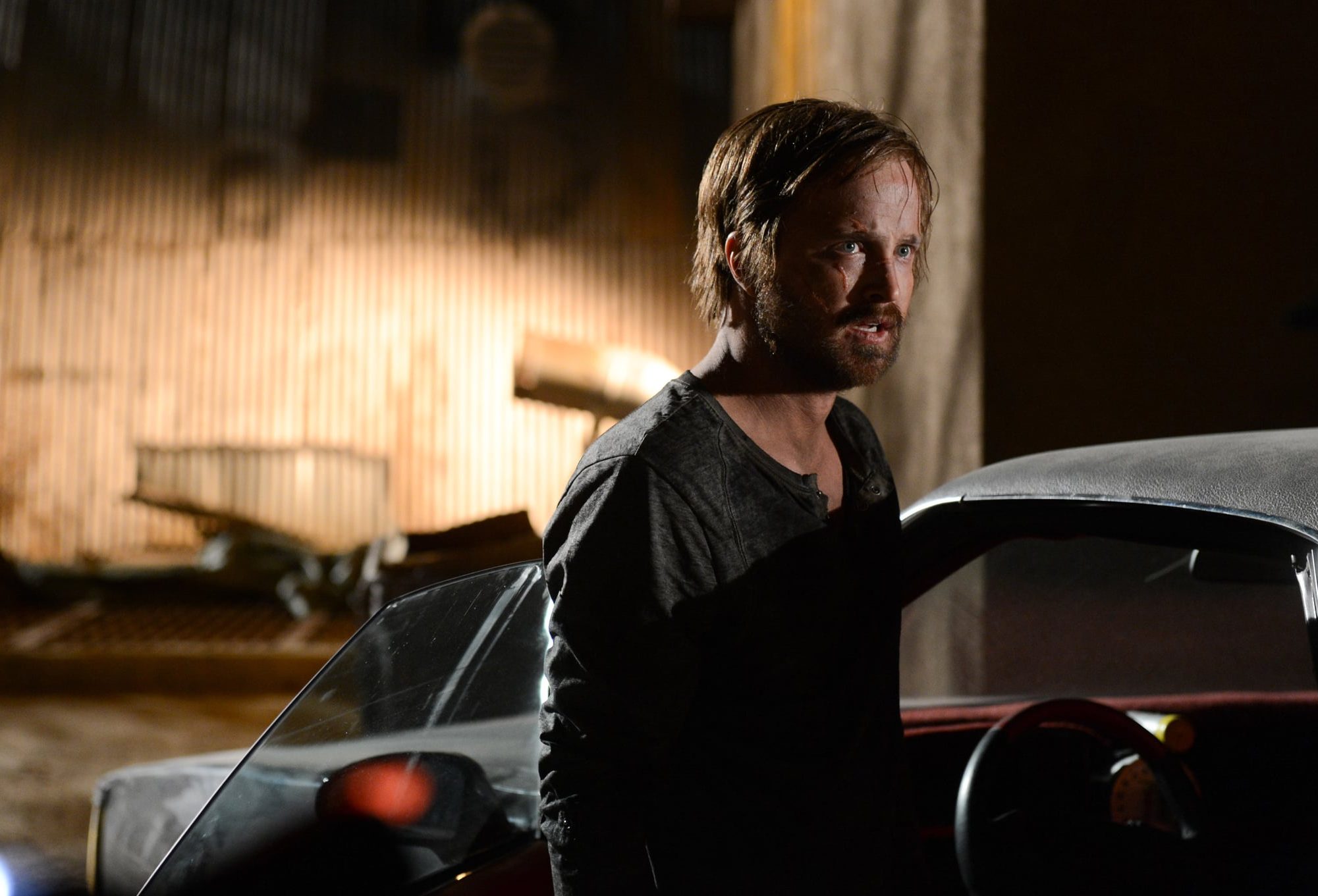 A funny thing, time — it may seem like just yesterday that chemistry whiz-turned-meth kingpin Walter White (Bryan Cranston) was making his last stand in a hail of automated machine-gun fire. In actuality, TV's Breaking Bad wound up its run six years ago, which means enough years have elapsed to place the property in reboot territory — recent enough to still be popular, old enough for the public to crave more.
Hence the arrival of El Camino, a new feature-length follow-up to Breaking Bad coming to us by way of Netflix. Last night during the Emmys, Netflix gave up the first look at the film prior to its release online and in select theaters next month, and Walt's nowhere to be seen.
He was presumably left dead at the finale "Felina," with his accomplice/frenemy Jesse Pinkman (Aaron Paul) the chief survivor of the bloodbath that closed out their show. The new trailer joins him as he lights up a cigarette in the eponymous hot rod, parked out in the blue night of the desert. His face has been latticed with scars, he looks haunted; this guy's been through it.
In keeping with his habits during the show's original run, Vince Gilligan — showrunner, now turned director of the film — has kept mum about even the most innocuous details of the script or even its premise. All that's known at present is that the film revolves around Jesse's efforts to stay one step ahead of the law and the criminal element hot on his tail, and that his pals Badger and Skinny Pete (Matt Jones and Charles Baker, respectively) will reappear on the scene.
The official cast list also names enforcer Mike Ehrmantraut (Jonathan Banks), which raises some questions, as Ehrmantraut was last seen dead. Reason would suggest that a flashback may bring him back onscreen, though that raises the additional question as to whether Walter White may show up in a similarly spectral capacity.
Either way, after five seasons, fans know what they can expect beyond the machinations of plot: snatches of violent dark comedy, creeping cinematography in the tradition of Roger Deakins, lots of panoramic views of the American Southwest. Which clarifies the real appeal of this project, the warming feeling that yes, it is indeed good to be back.
El Camino: A Breaking Bad Movie comes to Netflix on 11 October.
The post Bad is broken once again in the trailer for El Camino appeared first on Little White Lies.